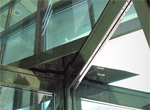 Builders Glass is a certified dealer of products by Horton Automatics. We will do what it takes to meet any specification, and customize your solution for institutional or industrial applications.
Horton Automatics has been designing, manufacturing and selling automatic doors since 1960, when we developed the first automatic sliding door in America.
Horton Automatics brings convenient access to commercial, industrial, and institutional locations. Our doors meet or exceed the exit requirements for every major code in the United States, as well as providing compliance for the Americans with Disabilities Act (ADA) and Metro-Dade. Every automatic entrance manufactured is treated as a special custom order while still providing the fastest delivery time in the market today.
Contact us about this service